Our History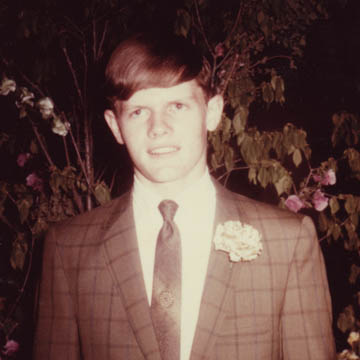 Don Krow in 1968

I was born a baby boy in 1950 to Cecil and Alice Krow... Just kidding! This is not about being born. I'm not going to take you back that far in history! Other than that, I want to say I was raised in a church as far back as I can remember in Ralston, Oklahoma.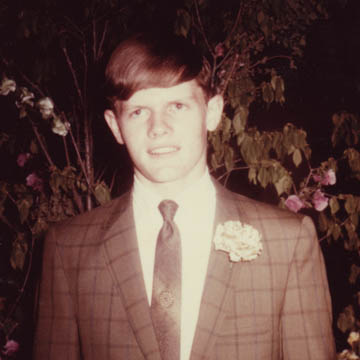 Don Krow in 1968

But it was in 1972 when I felt a call from God on my life while attending Northern Oklahoma College, a Community College in Tonkawa, Oklahoma. I left there after a year and moved to Texas to attend Dallas Bible College (the college closed in 1985).

While attending school in Dallas I met a guy, Andy Wommack, who had served in Vietnam and was now a youth leader for college age students. Andy's teachings really had a life-changing effect on me. I studied the Bible with him and we became good friends. In fact, I was his best man when he married Jamie.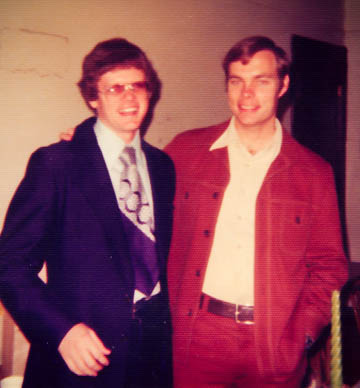 Don and Andy in the early years

In 1975, I returned home to Ralston, Oklahoma after not feeling well and not knowing why. Not long after returning home I was feeling better and another friend of mine, JD Hostutler and I went to Pawhuska, Oklahoma to start a youth ministry. Again I was not feeling well and quickly became deathly sick. I entered the hospital with a ruptured appendix that threatened my life in a very real way. I was in the hospital for awhile and before I was finally released I had become addicted to pain medication.

I called Andy in Texas for spiritual help and advice. His compassionate words to me were, "Lock yourself in the house, seek and believe God, or die." Seriously! It worked, though. After that I moved to Seagoville, Texas where Andy and Jamie were living. It was there I heard a radio broadcast by Kenneth E. Hagin. At the end of his teaching he mentioned a year training center, Rhema Bible College, in Broken Arrow, Oklahoma. I told Andy that I was going back to Oklahoma to attend that Bible school. In that same year God brought a kind, sweet, and pretty young woman in my life. In 1976 I married Wendy Jo Sellon from Ann Arbor, Michigan in my home town of Ralston after we both graduated.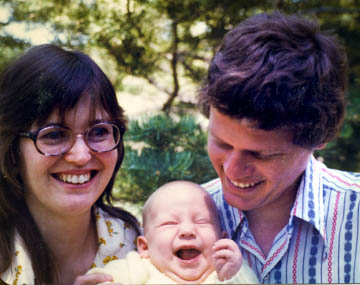 Don, Wendy, and Stephen in 1978

One day Andy (by this time he was using his given name Andrew), stopped by to visit. He asked me what my plans were now that I had graduated from Rhema. He invited Wendy and me to come to Childress, Texas where he and Jamie were living. While in Childress, Texas we started a new ministry with Andrew and Jamie, a Home Church. Our son Stephen Justus was born in 1978 while we were there.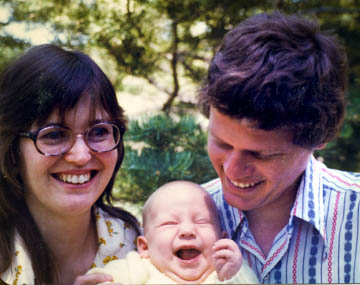 Don, Wendy, and Stephen in 1978

Andrew and Jamie decided to leave Childress and at the same time I was offered a job teaching at a Bible Teaching Center in Albuquerque, New Mexico. While in New Mexico our twin daughters, Vickie Renee and Vita Michelle were born in 1981. Vita was stillborn. There is a heartwarming testimony on video on you can watch here about the birth of our beautiful twin daughters.



We then moved to Eva, Oklahoma where I was pastor at Eva Community Church. There was dissension within the congregation and opposition against me that caused way too many problems. The church apparently no longer exists. You always want to say, "Well, that was a mistake." But nothing is a mistake if it's a learning experience. All these different situations were teachable experiences from God.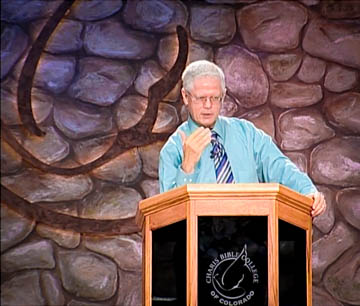 Don teaching at CBC

Again, I called Andrew for spiritual advice and that is when he invited me to come to Colorado Springs, Colorado to work for Andrew Wommack Ministries (AWMI). I worked in what I called the basement of the organization... organizing, packaging, and processing all the mailing requests for the tape ministry. When Andrew started Colorado Bible College, now called Charis Bible College (CBC) I moved from the basement to a classroom as a Bible Instructor. That was definitely my passion because I enjoyed my classes, teaching my students, and in the process was learning more about God and the Bible myself. I also enjoyed having a little fun in my classes with the students.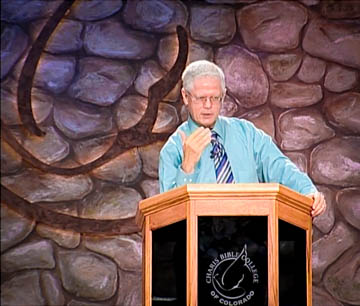 Don teaching at CBC

I loved working with Andrew on many projects and mission trips, but my most treasured memory was when Andrew and I developed the Discipleship Evangelism (DE) Program with the help of the CBC students. Actually the Discipleship Evangelism Program has had three major revisions over the years: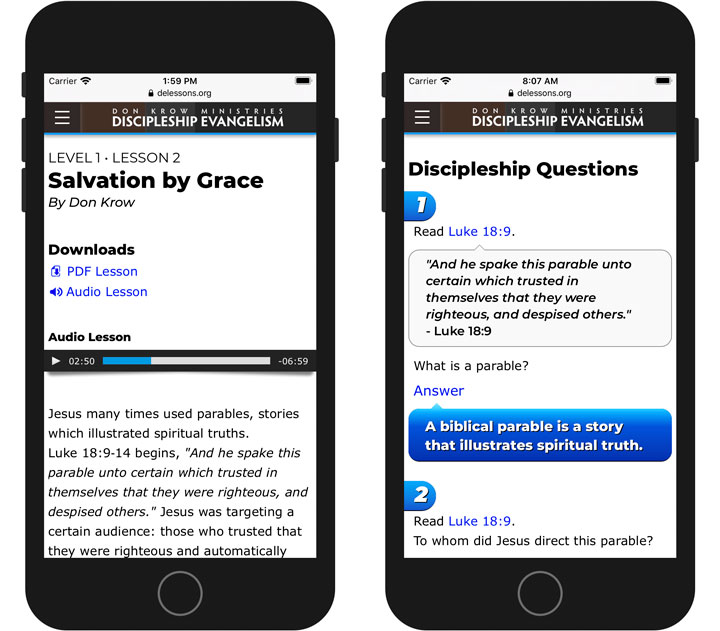 Use Discipleship Evangelism on the go with the latest mobile friendly version
The original DE program contained three manuals with VHS tapes and audio cassettes.
In the second version DVDs replaced the VHS tapes.
The third version has one printed manual without videos or cassettes. The purpose was to disciple in third world countries where there was no electricity available. The condensed version is still used and very popular today.
Our recent mobile friendly version of the program has the original audios that you can listen to along with the printed material which can all be downloaded for free. At the end of each lesson there is also an interactive question and answer section to go over what you just listened to or read. You can also find the original DVD videos on our Videos page or on our YouTube channel.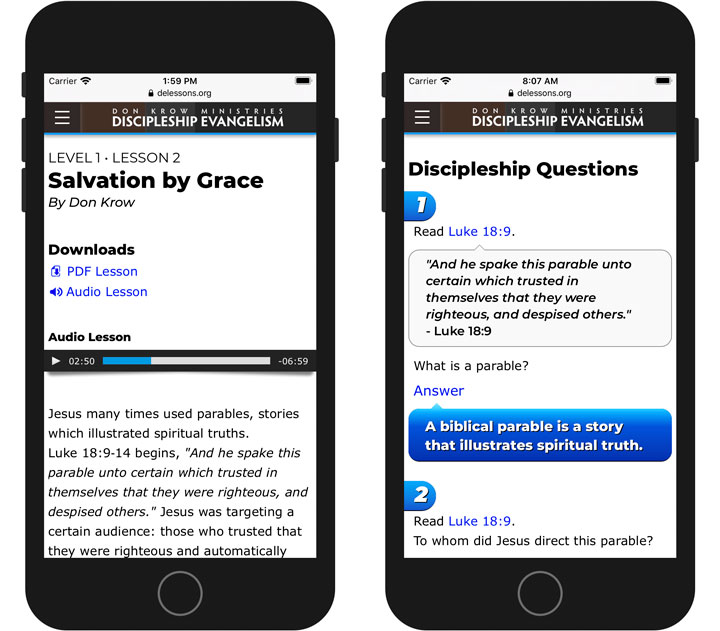 Use Discipleship Evangelism on the go with the latest mobile friendly version

It was during this time I created Don Krow Ministries (DKM).*Side Note It was independent of Andrew Wommack Ministries, but also functioned under the umbrella of AWMI. I built a support base for the ministry and started the "Discipleship Evangelism and Collection for the Saints" ministry. Wendy and I focused mostly at first on the people in need in our community. We provided help to many where the churches could not or would not because of their budgets. We paid utility bills, rent, car repairs, and anything to anyone that showed a real need.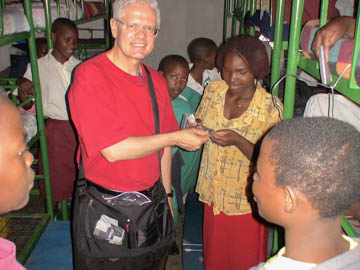 Outreach in Africa

Myself and two friends of mine, Joe and Rocky, went door to door inviting people to study the Bible, usually in their home one on one while Wendy and I continued to have Bible studies in our home. As our support partners grew in DKM, our outreach grew also to 3rd world countries.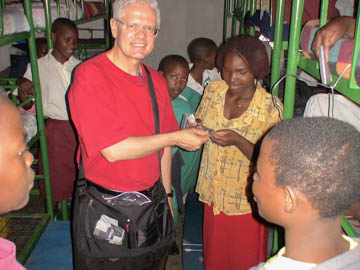 Outreach in Africa

I began developing more discipleship materials, Bible Study materials and tracts. During this time my dear wife Wendy developed breast cancer. It was my privilege to be her caregiver in our home until her death in 2006.

Shortly after, I remarried my new wife Mary Vandesteene and I moved back to my home town of Ralston, OK. I spent the next seven years continuing to develop most of the material you find on my website. My second wife, Mary also died of breast cancer after 7 years of marriage.

My son, Stephen has and continues to play a big part in creating and maintaining the DKM website, facebook, YouTube channel, and other DKM media outlets.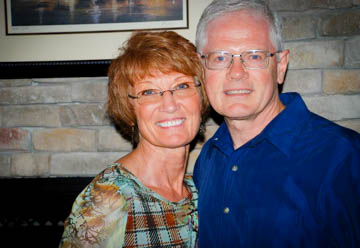 Don and Dana

I moved from Ralston to Rogers, Arkansas after I married Dana G Alton in 2013. Dana has also been widowed twice. Although our support base/partners have become half the size it once was, we still have been able to continue the DKM outreach, expanding our website to a worldwide network of discipleship materials, videos, and benevolent help and building homes in 3rd world countries. Dana and I do not take a salary.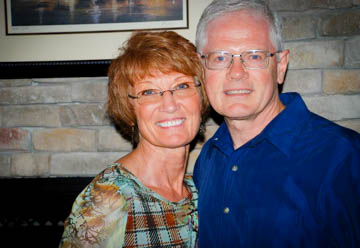 Don and Dana

One hundred percent of DKM donations are put into the ministry to help others. Dana creates the newsletter from the information I give her, adding sometimes her own personal stories, and taking care of the administration part of the ministry. Since I no longer have people working for me in 3rd world countries I enjoy working with and alongside people and organizations I can trust overseas and within the United States to reach the most needy.

DKM has been in existence since 1984. The website has 33 translations of the Discipleship Evangelism Program. 195 countries and all states within the United States have viewed and/or downloaded materials, commentaries that are available for the books of the New Testament, as well as many hours of audio and videos. All the materials available here on our website are completely free to download. I also share some of my favorite music!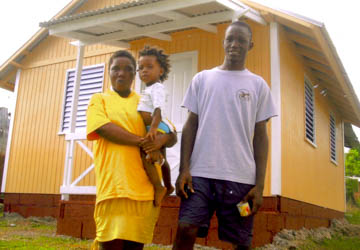 Building homes for the very poor

DKM believes the Word of God should not be sold and so we do not ask directly for donations. Instead we share what your financial support does for orphans, widows, missionaries, other ministries, pastors, Bible Schools, and housing for the very poor.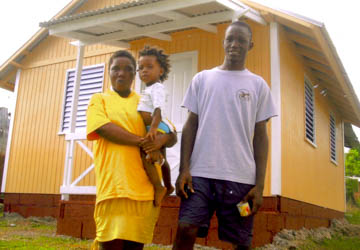 Building homes for the very poor

I hope you found it interesting and encouraging to know where DKM got started and why.



*Side Note: When I began my organization I decided I never wanted my name as the title of the ministry. Hence, the name started out Discipleship Evangelism and Collection for the Saints. But after a while a friend told me I needed to register as a 501C3 for the ministry and it should be registered in my name for the protection against theft of the ministry. That is why it is called Don Krow Ministries (DKM).