Some of Our Past Benevolent Work
Video of our projects in Africa
Helping Orphans and Their Education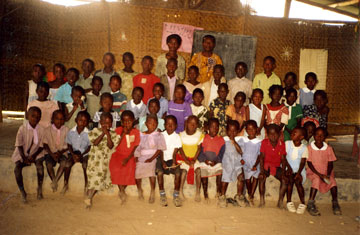 Helping orphans
Greetings in Jesus' name! This is to thank you for the assistance you gave our children. Such a thing had never been heard of in our community. Everyone stood on their feet and glorified God. We gave some of this money to children in the form of their school fees. Some money was given in cash to those depending on their state of need. We have over 250 orphans around us but have only been able to help about 58. Our plan is to set up an orphanage here. God bless you very much.
Pastor Noa Mawagali
Africa
Helping the Widows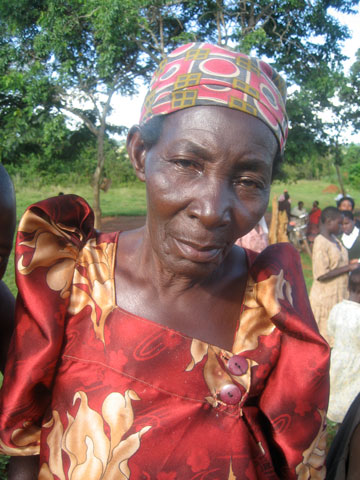 Thank you for helping the widows and orphans
On behalf of the widows in Rakai District and the orphans, I thank you for your generosity regarding the assistance you are giving us. There are endless shouts of thanks among these helpless people. Rakai, being the most AIDS- affected district in Uganda, has many orphans and widows. What is surprising is that the money you gave us did a tremendous work. We built a school on our church premises. Your giving helped a large number of widows and sponsored some orphans at the school in a miraculous way. The projects that your money supported involved the starting of a carpentry workshop to train orphans, the purchase of workshop tools and payment of some school fees for children. We were able to pay teacher salaries, and purchase beans and posho for 50 widows. May the Almighty God bless you abundantly.
N.M.
Rakai District, Africa
Free School Fees and Medical Treatment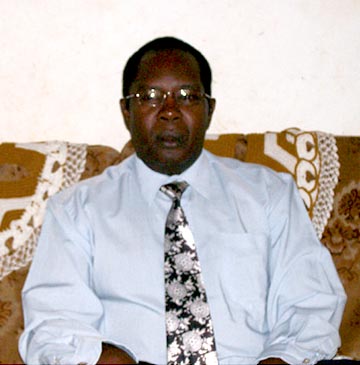 Pastor/Dr. Moses Okecha
Dear Pastor Don Krow, thank you very much for the money that you have sent. It has been of great use especially in the payment of school fees and medical treatment for those in great need. Thank you so very much for being kind to us. May the living God give you peace and bless you abundantly in all your endeavors. Our family in Africa sends you warm greetings.
Pastor/Dr. Moses Okecha
Uganda, Africa
Appreciation for the Goat Project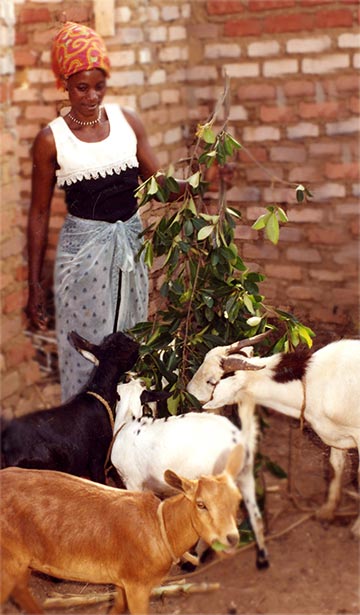 Stella Kayanja (Goats Project)
It has really been proved to me that our names have been written in the palms of God and He can't forget us, Isaiah 49:16. It was a great surprise that you included me in the people to benefit from this project. I purchased the goats and they will enlarge very soon. This will go a long way to help my income. I really pray God will richly bless you.
Stella Kayanja
Africa
Free Medical Assistance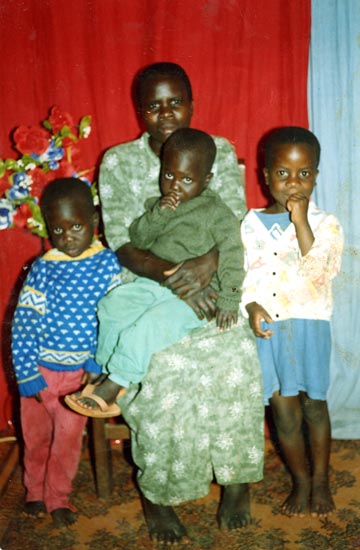 Noelina with her three children
The following picture is of Noelina and her three children. She cannot write English letters so she has asked us to write this thank you letter for her. She has been a Christian for a long time but was unfortunate in that she married a man with HIV-AIDS. She now suffers from AIDS and has had all her children tested. They were found to be negative. They are poor and she has separated from her husband. She now lives alone with her three children. The DE/Collection for the Saints Ministry was able to help her financially. Thank you for helping us to help her. A big thank you from Noelina and her children.
Africa
Victims of War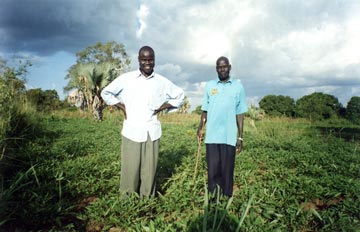 Joshua Ejoku with his father
Dear Pastor Don Krow, I am your brother in Christ living in the northern part of Uganda. I am known by the name Joshua Ejoku. We were visited by a representative of your ministry, Pastor Moses Okecha. He gave us a witness and testimony of Jesus Christ and we were very glad. We were also given assistance from your ministry as we are suffering victims of the war, famine, and difficulty. So thank you for remembering us in northern (war-torn area) Uganda. May God bless you abundantly.
Joshua Ejoku
Northern Uganda, Africa
I Was Sick and You Cared For Me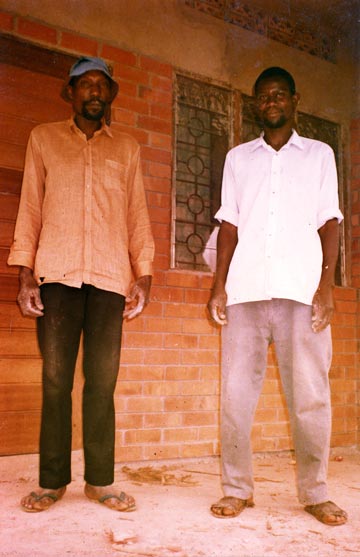 Edmond Boger
I have been seriously sick for almost a year. I couldn't afford to care for my family, buy food, or clothes or pay school fees for my children. I would like to thank you for the financial assistance to my family. I am a born-again Christian and appreciate your kindness and my heavenly Father's. May God richly bless you in everything you endeavor especially in your ministry.
Edmond Boger Family
Africa
Our Goat Project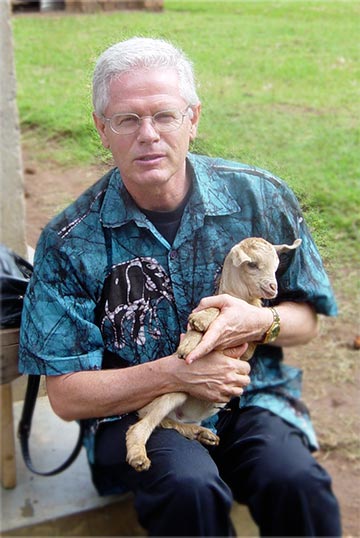 Goats project
I am indeed grateful for what you have done for the people of Uganda. I can't explain how people here felt when you were buying goats and gave to people in dire need. Thank you.
Pastor Moses Okecha Uganda, Africa
Helping Orphans in School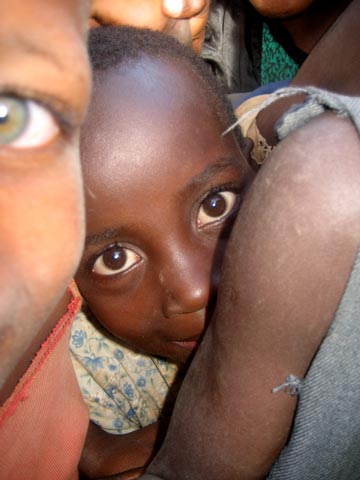 It is painful to be orphans
Thank you very much for the finances that we have received. We are twins and now we are in secondary school with our elder sister, Faith. Our father died when we were very young and our mother is struggling hard with bringing up the children that were left with her. We were at the verge of dropping out of school when your help came. The school was demanding a lot of money when you intervened with the assistance that came from you. We are very grateful for the assistance. We would not have been able to take our national primary exams if you hadn't assisted us. We don't think we have enough words to thank you. It is painful to be orphans. Thank you for being kind to us.
Melon, Melissa and Faith Uganda, Africa
Pig Project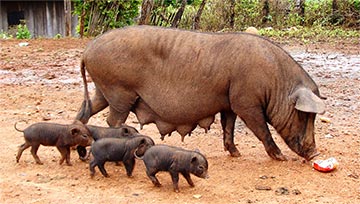 Pig project
Dear Don, we would like to thank you for visiting our school and more especially for the financial contribution you gave us for the pig project. May God bless you abundantly.
A. B. The Early Learning School, Africa
Supplying Bibles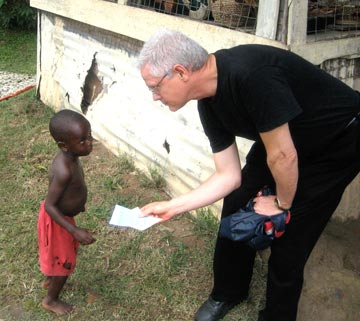 Distributing Bible literature in Africa
I am Pastor Daniel of Amazing Grace Church and Orphanage in one of the rural parts of Luweero. I am a Pastor to whom you gave Bibles. Those Bibles were very well distributed and we have been so blessed by them. Thanks.
Pastor D.B. Luweero, Africa
Helping Victims of War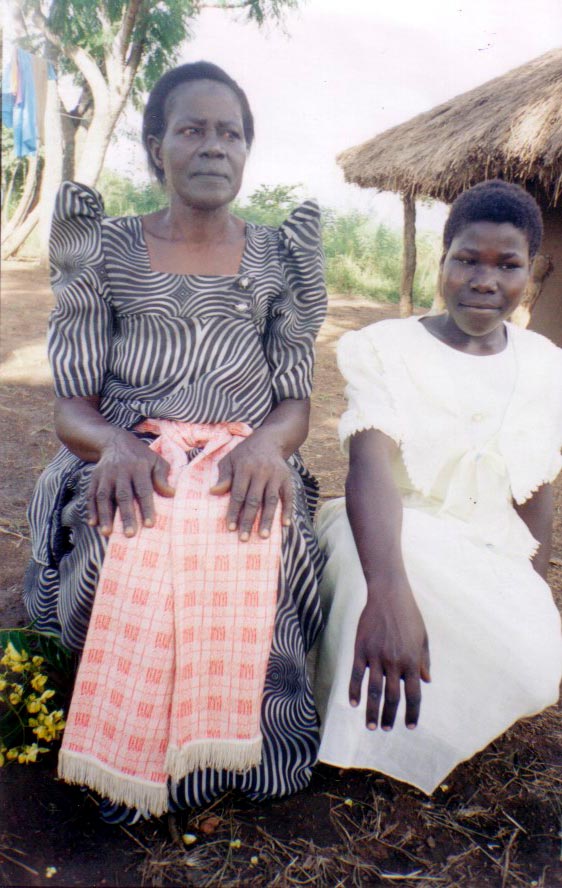 Machulate Lweila victim of
famine and war
I am Machulate Lweila, an old woman living in the Northern part of Uganda. We were tortured victims of war, famine and the need of clothing. I am writing to you to thank you so much for the help you have given. God bless you.
M.L. Northern Uganda
Helping Elderly Widows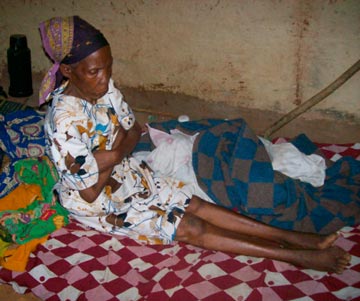 Priscilla Awuma - elderly widow
Priscilla is an elderly widow from Uganda, Africa who lives alone. She sustained a fracture of the femur near the hip joint. She had not been taken to a hospital because of transport costs. She is bed-ridden and could not find anything to eat. Thank you supporters for helping us to help her. She is a born again believer who is now very thankful to you.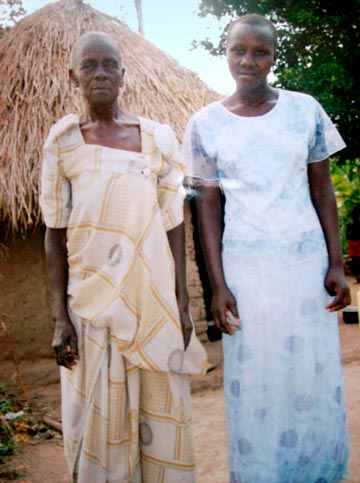 Beatrice & Jennifer
Beatrice is an elderly widow who has lost most of her children to the HIV – AIDS infection. In the picture she is with her 16 year old daughter. The two stay together. We were able to help them because of your benevolent giving. On behalf of them we say, "Thank you!"
Helping Children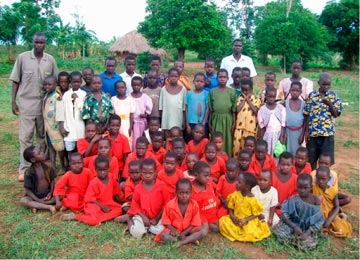 John Olupot with orphans he looks after
The pastor in this photo mobilized a large center for Discipleship Evangelism training. We are touched by what he is doing. He has children who have lost their parents due to HIV – AIDS, the war in Northern Uganda, and other causes of death. He now cares for them. He has started a small school for these children. We are now looking into ways to assist these victim children. Thank you for helping us to help these children.
Your Benevolent Help in India!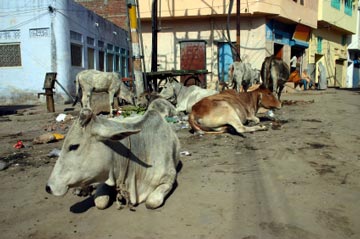 Cows on the Street, Rajasthan, India
Through your benevolent help we are helping the many pioneer churches, training centers, orphanages, and small self-supporting income generating projects in India. 90% of this work is among the down trodden poor people of Orissa, Chattisgarh, Maharashtra, and Uttar Pradesh states who face unfavorable circumstances and challenges. As we have sowed finances into India we are helping provide things like motorcycles to senior leaders and pastors, sewing machines, lanterns, evangelistic equipment, gospel tracts, Bibles, clothes, medicines, helping poor and needy children in their education, helping widows, funding self supporting projects such as piggery, cows, goats, water buffalos for milk products, rabbits, ducks, poultry and farming.
Your Benevolent Help in Peru!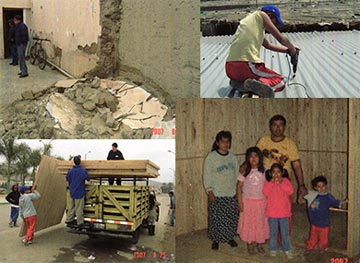 This family now has a home again
Dear DE/Collection for the Saints Partners: This pastor and his family now have a home again after the devastating earthquake in Chincha, Peru – Thanks to your help! God bless you!
Joe, Nancy & Sean MacQueen
Your Benevolent Help in Africa!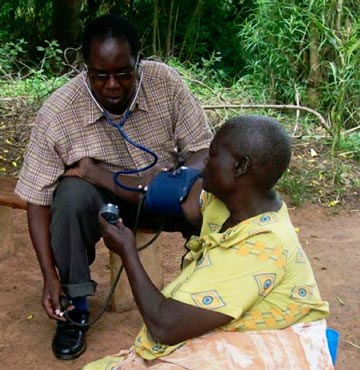 Dr. Moses, helping us to help others
Dr. Moses Okecha heads up our "Nationals reaching Nationals" discipleship program. He prays for the sick but also gives medical treatment when needed to many who would not be able to afford this help. DE/Collection for the Saints Ministry sows finances on a regular basis to help the sick and needy. Dr. Moses states, "Thank you very much for the funds that you send, it has been of great help especially in the treatment of the very poor. Many people have benefited. We have bought medicine and equipment. We identify and help real people in real need; the poorest among the poor, people in pathetic conditions, orphans and widows." Thank you DE/Collection for the Saints partners for helping us to help these hurting people by your generous giving.
Helping the Poor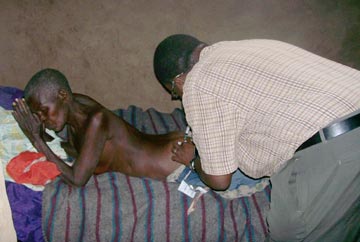 Dr. Moses giving medical assistance to the poorest of the poor
When Dr. Moses Okecha (a representative of our ministry) went to see this very poor woman, she was down with severe chest pain, cough, flu and difficulty in breathing. In the picture she is receiving an injection. These people are very grateful for the gospel, prayer, healing and medical support they receive because of your giving.
The Widows Goat Project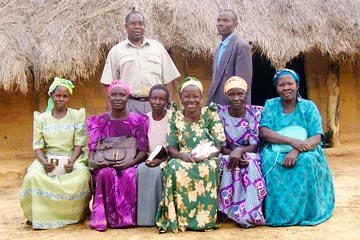 Widows helped by our "Widows Goat Project."
Helping the Handicap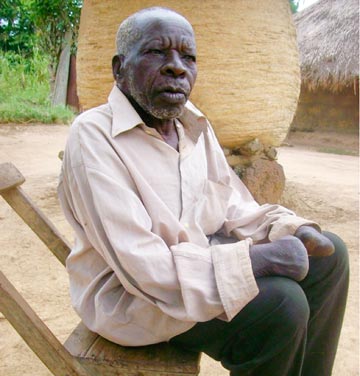 Your giving has helped Mr. Yokana
Mr. Yokana is an elderly man who lives in a very remote village in Africa. He had leprosy that amputated the extremities of his limbs. He was treated and is now free of leprosy. The DE/Collection for the Saints Ministry has helped him, for he is very poor and without fingers he cannot work. Thanks to all of you who have helped Mr. Yokana.