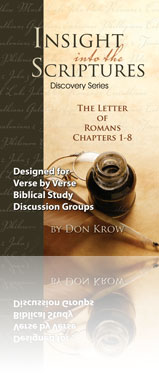 Insight Into the Scriptures Discovery Series
The Letter of Romans Chapters 1-8
Romans is considered the greatest exposition of the Christian doctrine of salvation found anywhere in the world today. In preparation of this work I have personally consulted around 27 translations for each verse. Over 675 scholars and over 100 years of translation work has been drawn upon. Seventeen study aids have been consulted (including lexicons, commentaries and Bible study notes) in preparation of the "additional information" to be drawn upon. This study may be used in Bible Colleges or with the youngest of Christians. The only commitment needed is that the Scriptures themselves must be your absolute guide and rule of faith.